We are an oud player and belly dancer duo. Our passion for music and entertainment makes us majnuun – just like the man possessed by his passion for his lover in the old tail of Leylie o Majnuun. We want to share our work and help create a community of musicians and dancers of Middle Eastern culture.
Navid Goldrick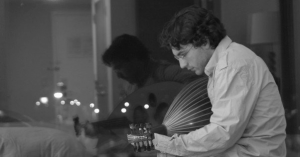 Navid is sometimes accused of having his head in the clouds, that's because it's hard to live in one world when your heart belongs to another. Growing up in Canada and coming from a culturally dominant Iranian family made Navid a very isolated character, never having much of the same values as the people around him. Navid grew up among a tightly knit tribe of boisterous Iranians, and his hardworking supportive father, the only true Canadian in the family. Navid has since resigned himself to being a man of two worlds.
Until the age of 10, it seemed as though the Canadian side was winning, hockey being his ultimate pastime. But having glasses as an appendage did not make hockey the most practical of activities. So it happened that one day music came into his life, and Navid suggested to his parents that if he were to play music he would play of those trapezoidal box things called a Santour. Lucky for him there was one kicking around, and he soon got to taking lessons with a political refugee fresh off the boat. Thus began many hours driving in the car with his mother listening to every cassette tape available that the local Iranian bookstore could offer. Navid heard the very beating of his heart within those sounds.
Tumultuous as adolescent life is, Navid often took a break from Iranian music, and dabbled in heavy metal guitar, Trombone, Jimi Hendrix, and even Classical Violin, until he had an appreciation of almost everything musical. He chanced upon something during that time that would change the course of his musical life forever while perusing Microsoft Encarta 97'. He heard for the first time, the unparalleled and unfathomable Oud of Hamza Al'Din playing Lamma Bada Yatathanna. It was just a short clip of the whole song, but it was enough to make Navid embark on a long journey to find and learn the Oud.
Five years later, and with the help of some friends, Navid was able to procure an Oud from Iran, but it was in very bad shape. The Oud had fallen out of use in Iran and had not until the last 20 years regained a presence in traditional Iranian music. The most prominent Iranian Oud player, Hossein Behroozinia, largely responsible for bringing the Oud back into mainstream Iranian music immigrated to Vancouver, and Navid began taking lessons.
Since then Navid has been an avid performer and is inspired to help preserve and spread all kinds of music from the Middle East whether it be Iranian, Turkish or Arabic. Navid has teamed up with Mao to become Majnuun, a group dedicated to cultivate music and dance as one unit rather than separate entities that come together once in a while.
He regularly writes articles and creates Oud lesson videos over at OudforGuitarists.com.
Mao Murakami
Mao was born into a fairly traditional family in Japan. At the age of 3, her mother took her to a music school where 20 or so 3-year-olds learned to sing and dance. In one of the lessons, the teacher brought out a microphone to each kid to sing. When the mic came to Mao, she burst into tears out of fear. No singing career for Mao.
She was always an introverted child who liked arts and crafts. She preferred to express herself through arts rather than talking. From lack of ability to put her emotions into words, however, she often cried instead. When she was in pre-school, she had accidents during nap times and as soon as she realized she had an accident, she was terrified with the thought that she had done the most terrible thing in the world and burst into tears. The pre-school held a few shows throughout the year, and she danced a traditional Japanese piece called Otemoyan and a theatrical piece based on Pinocchio as a girl puppet. Somehow she got through these performances without accidents or tears, and like any 4-year old would, she was praised by her family for her talent for dance and suggested that she join a ballet school (to which she immediately said no).
Like all good Japanese girls did, she started piano lessons at the age of 5. While her crying habit being present, she did not seem to get panicked on the stage. She rather enjoyed the attention when showing what she practiced hard for months (no matter whether she wanted to or not). Some hope for performing arts.
At the age of 12, her school teacher decided to throw a party where everyone was required to perform something. She chose to sing a popular song, forgetting her fearful experience with the microphone about a decade before. It didn't go well. Everyone in class seemed bored. Instead, they seemed to like another group who did a parody play where they mimicked teachers in school. From this defeat, Mao learned the value of entertainment in performance.
At the age of 13, she wanted to change her introverted image, and joined a drama club in school. Just as any school in Japan, when you join a group, you must start from the bottom. So she spent her first couple of years cleaning the club room and making and maintaining costumes and props. At the end of her second year, she got a leading role in a small play, and she put her heart and soul into it. She experienced the exhilaration of creating something with a group of awesome people and performing it in front of audience.
She continued pouring her soul into the club activity so much that her mother started to worry. When she told her parents that she wanted to join an acting school to become a professional actress, they flatly rejected. Being a teenager, she considered going to the acting school on her own, but the school was more than 100km away, and she had no money. End of story. End of the world.
Being a teenager is great, because you can forget your despair after a couple of nights of sleep. At the time, she was also enjoying the subject of English, and decided that her parents wouldn't reject her studying more English. She told her parents that she wanted to study abroad, and they granted her wish this time.
At the age of 16, she flew to Vancouver, Canada. She went to a high school there for 2 years, and there she found her long lost love – dancing. She took a dance class, which led her to perform a theatrical piece of Cinderella as one of the mean sisters. It was so nice to perform on the stage again in front of hundreds of students in school who never even noticed me in the hall way.
She continued dancing from then on. She tried hip hop, Irish dancing, flamenco, salsa, kick boxing, pole dancing, Classic Indian, Hawaian, break dancing, dance hall, reggaeton… She enjoyed them all, but could not find the motivation to continue with any of them.
Then one day, she saw an advertisement of a bellydance class. Since it wasn't something she tried before, she gave it a try. She immediately fell in love with the sensual movements, and the confidence and empowerment she felt from this form of dance. She never looked back since. She was fortunate enough to meet and study with amazing instructors who also provided her opportunities to cultivate performance skills at numerous events. Now that she has found her own oud player, a real luxury for Middle Eastern dancers, she is excited to share her passion for the dance, music and entertainment.
2014 Shimmy Mob Choreography Contest Winner.
Mao regularly writes articles and makes videos on how to make belly dance costumes. Check out her site at SparklyBelly.com.