Don't know what to get for your wife, girlfriend, friend, mother, sister, cousin, or neighbour who is a belly dancer this Christmas? Here are some holiday gift ideas that your dancing friends would really appreciate. These gifts for dancers come in different price ranges, and these would be perfect not only for Christmas but for any special occasions like birthdays, Mother's Day or Valentine's Day! (The number of $ indicates average pricing. $ = less than $30, $$ = $30-100, $$$ = over $100)
1. Hip scarves – you think your belly dancer girlfriend has too many hip scarves already? Well, nothing is too much for belly dancers. Check here for inexpensive options or here and here for nice designs. Get a few different designs, put them in a nice box or even in a big clear jar with a ribbon for a personal touch. $-$$
2. Gift cards for belly dance costume stores – I don't advise you to get a whole costume for your friend, although your thought is very sweet. This is because finding the right fit for costumes can be extremely difficult, and unless you know the measurements and particulars of the body of the person who you are shopping for, it can turn out to be a disappointing experience. If you take a chance in doing so, make sure you check the return policy! Anyway, anyone can use gift certificates for belly dance costumes, and I'm sure every belly dancer appreciates some *help* in growing their costume wardrobe. Below are online stores where you can purchase gift certificates. $$-$$$
3. Gift cards for lessons – If you know your friend wants to take some belly dance lessons, gift cards would be a gift to show your support and encouragement. In Vancouver, Ammara Dance Company offers gift certificates. $-$$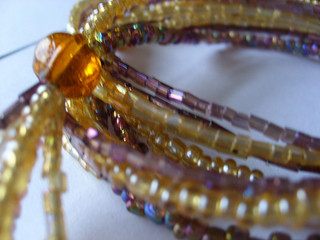 4. Beads, rhinestones, fabric – If your girlfriend likes to make her own costumes, she will enjoy getting some beautiful collections of fabric and shiny things that she can decorate her costumes with! Here are some online stores. $-$$
Beads & Rhinestones:
Artbeads.com and BlueMud 
Fabric:
5. Jewelry and hair accessories – Every dancer would appreciate extra necklaces or flower pins to add to their collection. $
6. Dance shoes – Dance shoes are a great gift, and they are usually at reasonable prices. Check out my favourite FootUndeez
 and classic ballet slippers. $
7. Yoga pants – Navid gave me a pair of yoga pants a few years back, and they are the most comfortable yoga pants I've ever worn. To date, I wear them 3-4 days a week, especially when I practice dancing. $$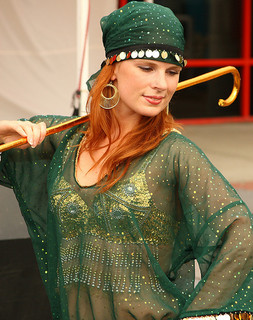 8. Props – props are fun to dance with! What kind of props for a holiday gift? How about isis wings
, silk veils
, silk fan veils
, or zills? $-$$
9. Cover-up – beautiful cover-ups for before and after shows is something every dancer wants, but if she has the money to spend, she would rather spend it on a new costume… hence I've been wearing my veil as my cover-up. But a nice cover-up can be used for many years, gives the dancer comfort and warmth. Tie-front is a very nice feature for dancers. Check out this one. $$
10. Belly dance music CDs $
11. Belly dance instructional DVDs $
12. Leg warmers – These days I am enjoying my leg warmers
when warming up. I extend my leg warmers as long as they can so they cover almost my entire legs.  Okay, I'm short so maybe that is why they cover my entire legs, but they are not supposed to cover your entire legs. Anyway, they really help warm up legs faster, and get your muscles ready to move. This is good for preventing injuries. They give great support when kneeling down as well. $
13. DIY idea 1: Picture of their favourite dancer in a frame – If you know which dancer's videos your wife is watching over and over again, this would be a very thoughtful gift. It may sound too simple, but having a nicely framed picture of a favourite dancer can really help a dancer be inspired. You can even decorate her practice space by picking up a few matching frames and filling one with your wife's favourite dancer, one with her best dancing photo, and the last one with you and her. $
14. Big mirror – for their practice space. I have one like this one. Not too big, but enough for regular practicing on my own. $
15. Yoga mat
– for stretching. $-$$
16. Gift cards for professional photo shoots – Every dancer wants professional photos taken by a professional photographer! $$$
17. Make-up palette – For all girls, dancers and non-dancers. The more colours, the better, like this one
. $-$$
18. Dance supply bag – One with wheels like this one
is so nice and well-designed so your belly dancer friend can take it for classes and performances. Pockets are great for organization. $-$$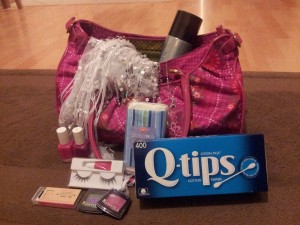 19. DIY idea 2: Belly Dance Gift Bag – This is essentially a bag with performance necessities. Perfect for practical girls. This is a cheap and pretty awesome gift. Find a cute little bag or pouch, and stuff it with false lashes, hair spray, lots of bobby pins, lots of safety pins (in different sizes), Q-tips, Ziploc bags, and fill the rest with shiny things like a few shiny bracelets or eye shadows, a bright colour nail polish. They are all great gifts for dancers by themselves, but putting them all in one pouch makes it neat and thoughtful. All of these can be purchased at a drug store. $
20. Tickets to upcoming belly dance shows in town – maybe throw in a dinner before the show too! And yes, you are going to the show with her and you are going to enjoy it too. $$ for 2
And don't forget, the best gift you can give to any belly dancer is tell her how beautifully she dances and show your support by going to watch her performances a few times a year (or more, if you want!) 🙂 Happy Christmas Shopping!
Did you enjoy this article? Get our latest articles in your email inbox!
[mc4wp-form]
Image credit: Hip scarf photo by Britt-knee; Beads photo by Siona Karen; Cane girl photo by Frank Kovalchek