My eyes are so-called "Asian eyes" – small, flat and rather narrow, so I need to define my eye shape with make-up, in order for it to be visible from distance. Even on a regular day, when I go to work or run errands, I must at least wear eyeliner, or I feel like I am going outside in pajamas. So you can imagine how important eyeliner is to me when I perform on a stage.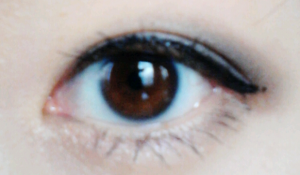 Unfortunately, my eyelids don't seem to like every type of eyeliner. My eyelids tend to be oily, and they are deep double eyelids, which means I have an eyelid that folds and creates a line, and the crease folds very deep like the photo shows.
So the fold of my eyelid rubs eyeliner off, and the end result is a faded eyeliner plus another black line above the crease. And sometimes I get smudge on my lower eyelid, which makes my eye a "panda bear eye." When I dance, it is even worse because I sweat and my eyelids get oilier than usual.
So I have been on a mission to find the best black eyeliner for me. Here are my criteria.
A perfect eyeliner for me:
1. Doesn't smudge.
2. Has a fine tip (I need to be able to draw a thin line where the fold is deep).
3. Is waterproof (in case I get really excited and cry…which happens once in a while :P).
4. Comes off easily when I want it to.
5. Is not expensive.
Eyeliner Recommendation 1
I have tried tons of eyeliners. In general, eyeliners that are known to be waterproof and long-lasting are gel eyeliners. After hours of research, I purchased Maybelline New York Eye Studio Lasting Drama Gel Eyeliner
. This product had a lot of positive reviews on cosmetics sites, so I decided to give this a try.
The result was fairly positive. It is waterproof, and comes off easily with regular make-up remover. Maybelline is a brand that can be found at a drug store, so it is not too expensive. It is listed $7.94 on Amazon
 at the time of writing this article.
It comes in a little container with an eyeliner brush. It is not a quality brush, but it does the job for me. You don't have to buy a brush seperately, so that is nice.
Unlike other gel eyeliners, this product does not dry up easily. It does not smudge easily either, but I have noticed it smudges around the crease area, which is the oiliest part of my eyelids. This smudge happens only when I cover half of my eyelid with this eyeliner like this…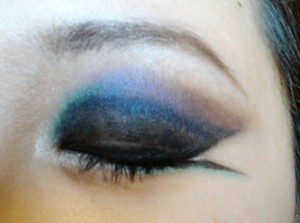 I know this may look crazy close-up. But after trying various versions, I have settled on this make-up when I perform at a fairly big venue, where the audience cannot see my facial features well, because the black colour shows up most clearly with this eyeliner, and defines the shape of my eyes best. If I use dark eyeshadow, the colour does not show dark enough, and with stage lights, all the eyeshadow colours get washed away. I believe this type of eye make-up works especially for "Asian eyes" whose eyelids are flat, like mine.
Although I cannot call this one the best black eyeliner, I still use this product for stage make-up like in this photo. I get less smudge when I use Too Faced Shadow Insurance eye primer
 (this is another excellent product that minimizes smudging for eye make-up).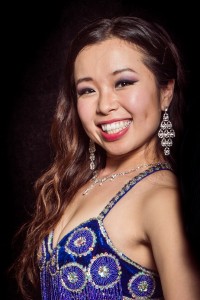 Photo Credit: Two Peas Photography
Eyeliner Recommendation 2
I recently found a liquid eyeliner that is even better than the Maybeline gel eyeliner. This is a Japanese brand, called Koji Dolly Wink Liquid Eyeliner
. This product, used with the Too Faced eye primer
, does not smear or smudge all day! It has a nice fine tip, but the brush is not too soft, so it is easy to draw a nice thin line or precise line for a cat eye look or winged line. It is waterproof, but comes off nicely with warm water. I love this eyeliner so much that I completely used up one in about 6 months and just bought another one. I hardly ever use up make-up products before they go old, so you can imagine how much I love this product!
I use this product daily as well as when I perform. When the audience is closer, they can see my facial features very well. So for this type of performance, I wear dark eyeshadow in place of the gel eyeliner as I mentioned above, so the overall look is softer, yet my eyes are still defined. Then I draw a rather thin line with the Dolly Wink black eyeliner. This way, I don't have to scare little kids away!
Dolly Wink used to be only available in Japan, but nowadays you can purchase it for about $23 on Amazon
 at the time of writing. I like the cute, flowery package design as well!
And in this photo, I used the Dolly Wink liquid eyeliner. It is very black and long-lasting.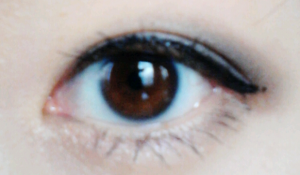 In conclusion, Dolly Wink is the best black eyeliner for me. If you are new to eyeliners, I recommend the Dolly Wink liquid eyeliner
, since it is shaped like a pen, so you have more control, and it is easier to draw precise lines. It is also great when you want to hide a bit of dried glue from false eyelashes or the strip of falsies. The fine tip goes into every little corner you want to fill in with black. The Maybelline gel eyeliner
is good for those who can use eyeliner brushes, which can be a bit tricky without practice.
It took me a while to find these 2 products that work for me, so I hope this information helps you if you have a similar skin type. What eyeliner do you use? Which product works for you? Share it in the comment section below!
Did you enjoy this article? Get our latest articles in your email inbox!
[mc4wp-form]