On October 19, 2013, Majnuun had their first appearance at the Twilight at the Oasis (TATO) show, an annual show put on by the Middle Eastern Dance Association (MEDA) in Vancouver. For me, and probably for many student belly dancers in the Lower Mainland, this is THE show where you want to perform. Performers are selected by audition, and if you make the cut, you'll get a good amount of exposure, and the belly dance community will check you out.
So just imagine how happy and excited Navid and I were, when we received an email from MEDA saying that they would like to have us at the show. Not in the audience like last year and the year before. ON STAGE.
The piece we auditioned is called "For a Glimpse of Zeina" and half of it is Navid's original composition and the other half is the famous "Zeina" by Mohamed Abdel Wahab. These 2 pieces are bridged by our call-and-answer piece between zills and the Oud.
We named this piece "For a Glimpse of Zeina" because we have a Zeina – beautiful girl – in our life. No, not our baby, but Navid's niece. The piece starts out with an exciting, fast-paced piece Navid wrote and named after his niece, "Isa." Here we are excited, and anticipating Zeina's arrival. Then we do a playful conversation with zills and the Oud, like we are saying, "oh I'm so excited!" "oh I'm so excited too!" "She's going to be so sweet" "I know!" Then Zeina arrives. And she melts our hearts with all her cuteness and fills our life with so much love.
So this is the story we were going to express. We had the music already, and I had choreography and costume ready because we had prepared everything for the audition video. So the preparation for the show should be pretty easy…right?
Well it wasn't.
First off, BECAUSE we felt SO excited and fortunate to be selected, we (or mostly I) got nervous and stressed. I kept on revising my arm positions, zill patterns, our formation – I like making my Oud player move around – and other little things that people won't even notice. But I notice. And it affects my confidence and comfort. We rehearsed almost everyday for a month leading up to the show, and if we miss a day or so, I felt like we weren't doing enough! I almost wished the show was over already!
Then the costume… My experience with costumes is that a set of bedlah that fits me well one day and doesn't fit me well another day. I love this blue bedlah I bought from beautiful Gina last year. The bra of this bedlah is fine, but somehow the belt feels big sometimes and fine at other times. I've already made it smaller than it was before, and I can't make it any smaller without compromising the pretty design. So after trying it on and taking it off for a dozen times, I decided to pin the belt to the skirt so it doesn't come up or down while I'm dancing.
And Navid's costume… I like to say he performs with me, so he's wearing a costume too. This is one of many new things he had to adapt to since he started performing with me. Even though I'm new to performing as a duo, I have a strong preference on how we should look on the stage. It bugs me when performers just don't look right, like awkward costumes, weird colours etc., even if their performance is great. Dancers tend to put a lot of efforts into costumes, but musicians…not so much. Especially when they think they are "just" playing music for someone else (like a dancer). But audience can see you! For Majnuun, Navid is a main performer too, and therefore I choreograph his moves, and he has to wear a costume that matches mine.
So I looked around for his costume, and we got him new suspenders to wear, but couldn't find a matching bow tie (I've been making sure he wears a bow tie at every performance – one of my strong preferences). So I made it from scraps of leather.
The last source of stress came in the morning of the performance day. Navid and I decided to run our piece a few times before we got ready. Then Navid said,
"In the call-and-answer part, try to make the zill patterns as simple as possible."
I was shocked. I was like, "he's telling me to change the zill patterns now!? Just 6 hours before the show!? Why didn't he tell me in rehearsals before!?"
He was asking me to make the zill patterns simpler, not more complex. But sometimes making something simpler is more complex. His request made sense, however. The zill patterns that we had agreed on were a bit complex, and even with our doumbek track keeping rhythm, it was hard for me to make the zill pattern sound clear. (At a later date, Navid told me that he made the suggestion so that I would feel less pressure to play zills, although it resulted in an opposite outcome.)
If it was a regular performance at a community event, I would have said, "Sure!" and it wouldn't have been a big problem. But we were going to be watched by a whole bunch of fellow dancers and their families and friends who are likely to have seen belly dance shows before. My head was already full of thoughts about packing costumes, getting to the venue for our tech rehearsal by transit, doing makeup etc. I didn't want anything more that could cause a problem.
The last minute change for my zill pattern made me doubt my zill playing when we ran the piece. "Is this too complex? Maybe too simple!? Oh my god, now I'm thinking about what I'm playing and my movement feels awkward!" blah blah blah…
Needless to say, my mood was down, and by then poor Navid had realized he may have done something wrong.
From the time we did the run-through, I didn't talk much until we got to the venue. I explained why I was upset, and Navid understood and apologized over and over. And I felt sorry for Navid, but seriously, it affected my confidence.
By the way, this doesn't happen often for me and Navid. We are usually pretty good at talking over things and fixing problems. We don't fight. We talk. So this time, it was my fault for getting emotional and keeping silence.
Anyway, after moments of awkwardness, we got to the venue, and we saw the wonderful women of MEDA who were so organized and efficient as well as the beautiful stage and professional staff at the James Cowan Theatre at Shadbolt Centre for Arts. At the tech rehearsal, all these people helped us with our special request for sounds for the Oud, and everything sounded great, so that gave me more confidence and lift my spirits up. After mingling with other performers in the dressing room, I was feeling like myself again.
Like other performances, once it starts, it goes by in a blink. The awesome MC, Kim, kept the audience engaged and entertained in between performers. I felt so proud and humbled to hear zagreets and whistles from the audience (most of which probably came from Navid's mom and aunts). A great audience makes performers perform better. I think Navid and I gave our best, and we truly enjoyed our performance. Since we were in the first half of the program, we were able to sit back and enjoy the second half of the show including the featured dancers, Morocco and Karima Nadir.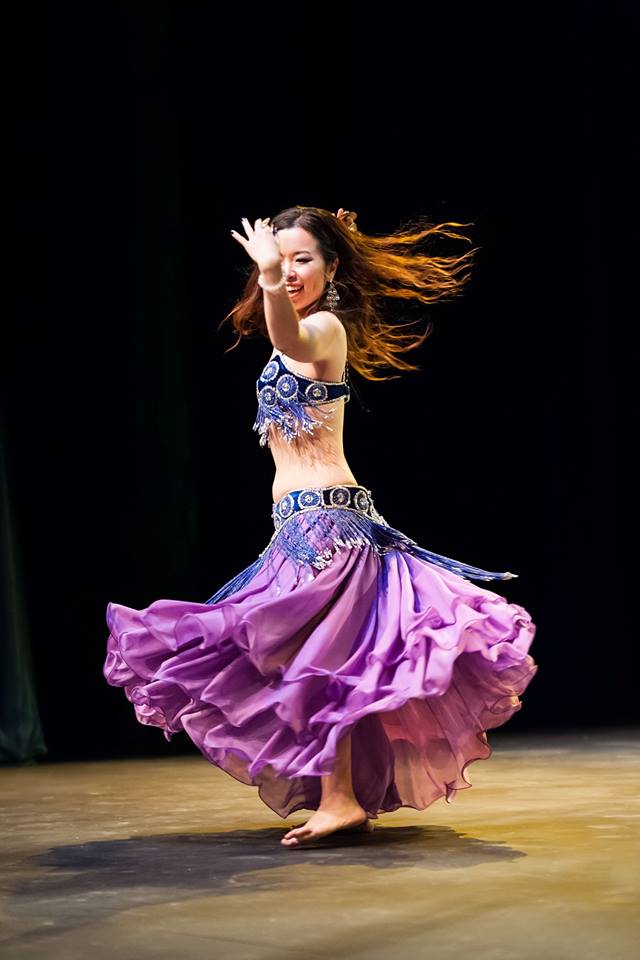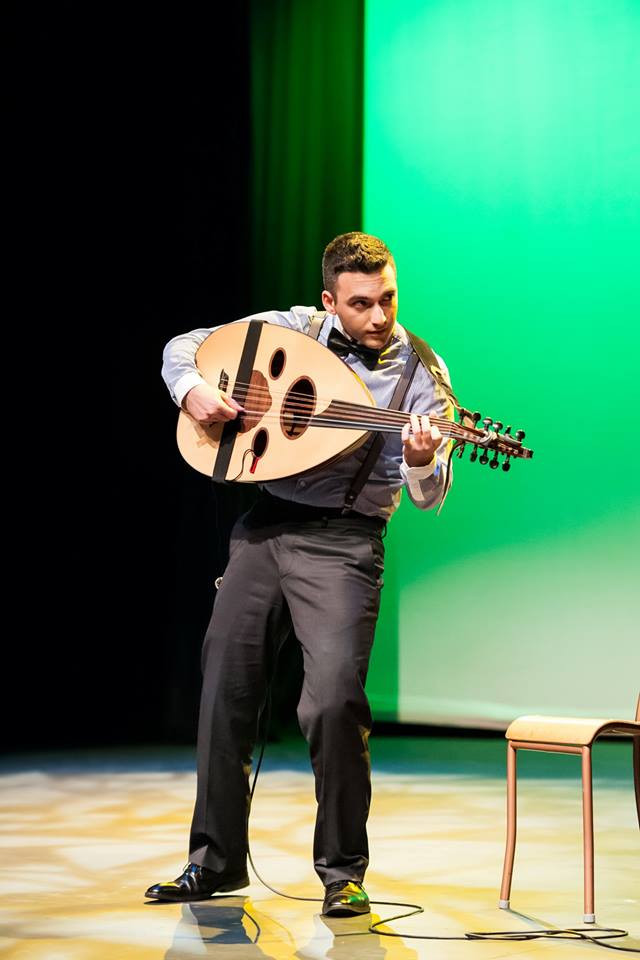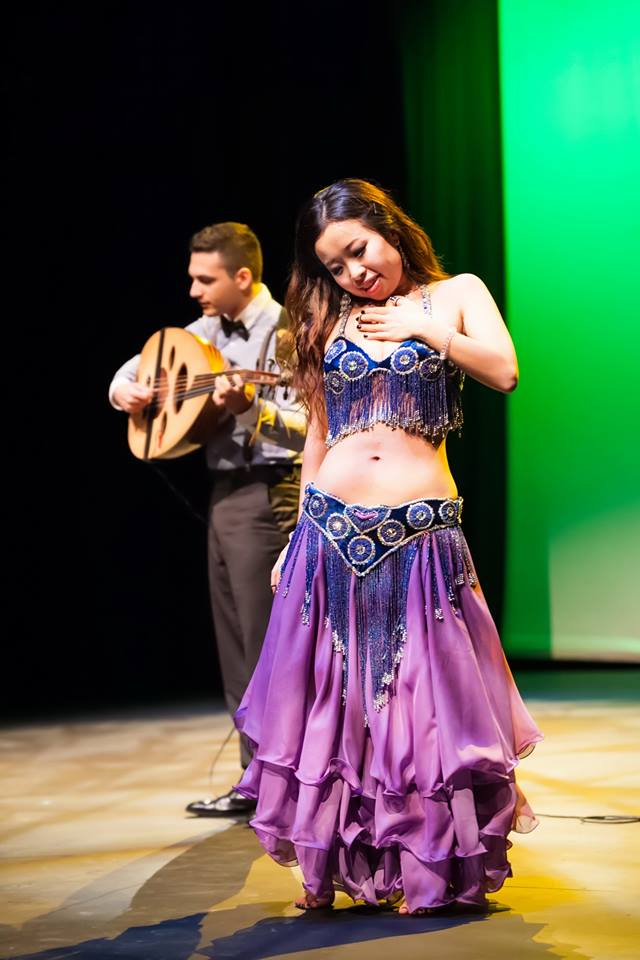 All above photos by the wonderful Brendan Lally Photography
Morocco and Karima were so beautiful, and their performance made me appreciate what beauty simple movements can create. I feel we often make things very complicated when trying to make them better. Also, our community is so blessed to have such talented dancers. My friend who came to see the show said that she was "really touched that the dancers are multi-national brought together by their passion for belly dance." This is so true, and this is what makes our community colourful and lets each of our unique characters shine at the same time.
Navid and I thoroughly enjoyed ourselves that night, met people, and received many kind compliments, which meant a lot to us.
Next day my dear instructor and mentor, Lisa, emailed me and shared with me that Morocco specifically mentioned our piece at her workshop and thought it was "simply adorable." Isn't it so sweet of Lisa to share it with me, and how wonderful it is that Morocco watched and remembered our piece like that! I still feel so warm, humbled, and fortunate when I think about this.
Despite the mini drama prior to the show, I am very happy about our performance at Twilight at the Oasis 2013. I am thankful to MEDA for giving us the opportunity, Lisa for her support and guidance, our families and friends for their support and encouragement, and most importantly, Navid for working so hard with me. I'm so lucky to have a partner with whom I can grow as a dancer and as a human being. I feel so blessed to be part of this community.


Did you enjoy this article? Get our latest articles in your email inbox!
[mc4wp-form]