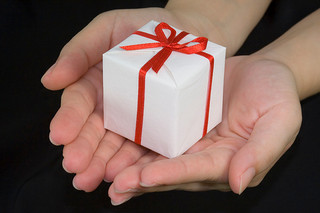 I love gift giving. I feel it is a special time when I can think ONLY about the person that I am giving a gift to. This makes me feel good to think that I am being a good friend, girlfriend, daughter or whatever my relationship is with the person because I am showing my care and affection with this special gift. I often feel gift giving is as much fun to the gift giver as to the receiver. Seeing the joy on the gift receiver's face gives the same joy on the gift giver's face.
I wrote an article 20 Holiday Gift Ideas for Belly Dancers a couple of months ago. Since then I thought more about gift giving during the holiday time. Then I reached a conclusion that a great gift for both the giver and receiver has 2 important criteria.
The first is that the price of the gift is within the giver's budget. That's obvious. If the giver pays more than they can afford, that is not a happy gift for the giver (and the receiver if they ever come to know the fact that the giver went broke because of the gift that they received).
The second is more important, and this factor was reaffirmed by a Japanese book I was reading. It said something like this: no matter what your budget is, get something that the receiver would enjoy but wouldn't buy for themselves.
Something that they would enjoy but wouldn't buy for themselves.
Would enjoy…but wouldn't buy for themselves…
I think this is key for a great gift. Since Valentine's Day is coming up, let's say you are looking for a Valentine's Day gift for boyfriend who enjoys coffee. Your budget for this Valentine's Day is $30. What would you get for him?
If you get a $30 gift certificate to Starbucks, it's nice, and it may buy him 5 tall-sized macchiatos, but this gift idea has been seen and done a million times. Maybe he has received the same thing from his boss before. Your Valentine's Day gift should be a bit more special.
How about a bag of coffee beans for $30? He may be buying one of the cheapest brand coffee from Safeway for $10/tin for his daily cups of coffee. A bag of nice organic coffee beans like this World's strongest ground coffee in Canada or this organic French Roast in the US would be a nice surprise that lasts for a couple of weeks.
Or what about a $30 mug cup? I found out the other day that my dad drinks his coffee out of a $50 mug cup that he bought for himself. He is so proud that the cup has some gold embellishment on it, and he has to make his coffee in the cup. $50 for a mug cup seems outrageous to me, but if that makes him happy, I'd buy one for him in a heart beat! Boys with their toys.
If your Valentine is a musician, how about high quality gear? For example, ear phone comes in a variety of prices. Navid was talking about his co-worker who has been really enjoying his $300 headphones of a brand called Sennheiser. $300 is a bit much for me with my current income, but if your boyfriend is listening to his ipod with a free set of earphones that he got when he bought his smartphone, then even a $25 pair of earphones would be a nice treat for him.
Or for a musician boyfriend, what about a fancy pick? For last Christmas, I got Navid a cow horn risha – an Oud pick made from cow horn. Apparently the material they use to make these picks can make a world of difference to the sound that the instrument makes. I had heard him talk about it, but Navid would always buy $2-3 plastic picks and sands them himself to make them work for him. The cow horn risha was only $20, but he has been enjoying this pick so much since Christmas. For guitarists, Blue Chip picks and Wegen picks are some of fancier picks. Oh, and along with the risha, I bought him a couple of bags of organic cookies. He loves sweets, but these organic cookies cost 3 times regular cookies, so we wouldn't buy them for daily consumption. The cookies were gone in a week!
Navid got me Sephora's Make-up Academy Palette for last Christmas. This was a lovely gift! I've been enjoying make-up more than ever these days, and so this palette is a lot of fun to use every day and experiment. I could be spending the same amount of money or more on cosmetics in a year, but I would not buy this one for myself.
A gamer friend may enjoy a good set of headphones with a mic. A beer lover who drinks Key Stone Lager may appreciate a rare, imported Belgian beer. A golfer may like good quality golf balls that may be a bit more expensive than their regular golf balls.
Key is that he wouldn't pay to get it for himself.
If you are still unsure, what about something that he uses daily? For Valentine's Day, Navid and I have always got each other a pair of underwear. I know it's funny and may be weird, and it started as a funny idea to help each other pick out a Valentine's Day gift. Every year that we've been dating, we got each other a pair of underwear. But the great thing is, we tend to get each other a nice pair that we wouldn't buy for ourselves. For example, one year I got Navid a pair of Lululemon underwear priced at about $30. Pricey for a pair of underwear, but a pretty good price for a gift, isn't it? Nice quality, quick-drying underwear.
So if you are stuck coming up with a gift idea, try thinking about his hobbies or things he likes or things he needs regularly. Then look at your budget and see if you can come up with something that he would enjoy but wouldn't buy for himself. For brainstorming ideas, try typing in the keywords ("coffee" for coffee lovers, for example) on Amazon or other online shopping sites. Make sure you compare prices in store and online.
Thanks for reading and Happy Valentine's Day shopping! Share YOUR gift ideas below!
Did you enjoy this article? Get our latest articles in your email inbox!
[mc4wp-form]
Image: asenat29