A Clear and Concise Way to Learn Oud
We are pleased to announce that you can learn Oud now with "Oud For Guitarists".
It is available online at www.oudforguitarists.com.
We are so excited about this product. We want to share the world of Oud music with everybody, and we think this is a great way to do it, at a very affordable price, $80 USD (12 Lessons for the price of two private lessons!).
It has been designed particularly for those are already know a little bit about music, whether you are a beginner or a pro, you will benefit from these lessons.
One feature we are very confident about is the 'player's view'. Most teach-yourself videos are filmed from in front of the teacher. But we have added shots that show you the fingerboard from the perspective of the player, so you can really see what's happening.
The content is totally original based on my experience learning Oud after growing up in Canada approaching the Oud from both a Middle Eastern perspective and a Western one.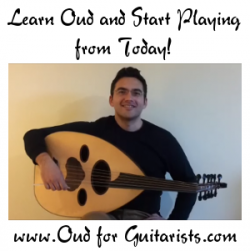 Did you enjoy this article? Get our latest articles in your email inbox!
[mc4wp-form]